And now: the Papua New Guinea madness arrives >
The Future Sound of London - Papua New Guinea [single remixes] (11.05.1992)
Jumpin' & Pumpin' – 12TOT 17R / TOT 17 / MCS TOT 17 / CDS TOT 17 (UK)
ZYX Records - ZYX 6786-12 / ZYX 6786-8 (Germany)
R & S Records - RS 92709 (Belgium)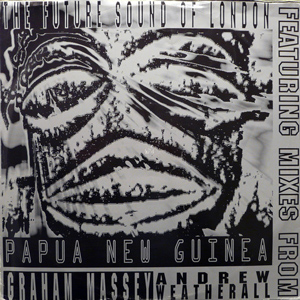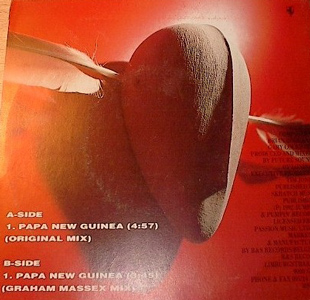 - just look at the awesomeness on that R&S red 7" cover...
So in 1992 the shit hit the fan, big time! PNG was massive hit all around, and it got re-released, remixed, and then re-released some more
FSOL's home label at that time, Jumpin' & Pumpin' released a 2nd pressing promo 12", official Single+Remixes CD + Cassette + 12", and at least 5 more DJ 12" that were in generic black sleeve, plain black sleeve or company logo sleeve. There was also a 7" release - I never quite understood why labels release these, maybe for collectors of rare items...
Also, there was a 12" and CD release for ZYX Records in Germany, and another 7" rarity for R & S Records in Belgium.
All in all PNG was reprinted at least 15 up to 1992 - I wonder what was the total number of copies sold... (not to mention it got re-released another 20ish times in 2001 and after that...)
In the '92 releases, Dougans/Cobain made three new versions/mixes of PNG, 'Journey To Pyramid', 'Monsoon Mix' and 'Dub Mix', and three remixers also appeared, the master producer Andrew Weatherall, the man who forged The Sabres of Paradise, Two Lone Swordsmen and lots of other bands; then Graham Massey, the founder of 808 State (they need no introduction), and a less known DJ named Hamish McDonald.
I remember reading in some interview that Cobain's girlfriend was in Greece, and some dude over there got a crush on her, made her a mixtape, and the Dead Can Dance track called Dawn of the Iconoclast was on there, and apparently this is how the whole idea of PNG was conceived - like a love story in a triangle
CDS TOT 17
01 -
Papua New Guinea (7" Original)
| 3:47
- also known as Radio Edit
02 -
Papua New Guinea (Andrew Weatherall Mix)
| 9:43
- stunning mix by Weatherall with strings, scratches, chants (apparently other members of The Sabres of Paradise helped too) ...almost as good as the original
03 -
Papua New Guinea (Dub Mix)
| 1:20
- a shot one, used like some kind of prelude for the Journey To Pyramid
04 -
Papua New Guinea (Journey To Pyramid)
| 5:25
- a mystical version with smoother breaks and piano rearrangements
05 -
Papua New Guinea (Graham Massey Mix)
| 3:45
- a trippier version, I would call it a re-cut, in the style od the 808 State, some nice sax samples thrown in the right places... maybe they aren't samples at all, more like someone played saxophone with the PNG notes variation
06 -
Papua New Guinea (Dumb Child Of Q Mix)
| 4:20
- already released on the original 1991 release
07 -
Papua New Guinea (12" Original)
| 4:57
- also known as the Dali mix from 1991
08 -
Papua New Guinea (Hamish McDonald Mix)
| 5:04
- lots of additional congas, percussions and other tribal and pagan elements, taking the PNG to the roots of Papua New Guinea, which was the last place on Earth having natives to commonly use cannibalism. Also it samples quite a lot (see below)
12 TOT 17R
A2 -
Papua New Guinea (Andrew Weatherall Mix)
| 11:31
- almost two minutes longer than the CD release, know as the Full Length Mix
B2 -
Papua New Guinea (Monsoon Mix)
| 4:49
- an exclusive mix to the 12" release, but this is barely a mix, more like a enhanced version of the original
FSOL - Papua New Guinea (Hamish McDonald Mix)
the opening effects of Hamish McDonald Mix sample from the opening of Tangerine Dream - Movements of a Visionary (from Phaedra 1974)
the rasta voice that appears on 2:06 is sampled from the opening of Mikey Dread - Saturday Night Style from 1979
'We are the future' vocal sample that appears on 2:46 is sampled from Afrika Bambaataa - Looking for the Perfect Beat 1983 (at 5:52)
Hamish McDonald Mix also samples the opening chirps of Pink Floyd - Several Species of Small Furry Animals Gathered Together in a Cave and Grooving with a Pict (album: Ummagumma, 1969)
The original mix of PNG contains lots of samples, covered in the 1st release of the single -
here.
------------------------------------------------------------------------------------------------------------------------------------------------
The Future Sound of London - Accelerator (Re-Releases with Remixes) (1992)
Jumpin' & Pumpin' – CD TOT 2R / LP TOT 2 (UK)
R & S Records - RS 2192CD (Belgium)
Addiction Records - ADD CD 002 (Australia)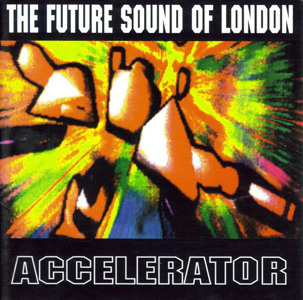 The Accelerator, being the album that contained PNG, previously released only on CD and cassette, got properly re-released on Jumpin' & Pumpin' on another CD and 12", also on CDs in Belgium and Australia. The timing on the track cuts are a mess here, somewhere the writing is right and the tracks are wrong - and somewhere the writing is wrong and the cuts are OK.
Anyway, two new remixes appeard on the 2nd pressing of Accelerator, the Moscow remix being the better one, I think...
11 -
Expander (Remix)
| 4:54
12 -
Moscow (Remix)
| 4:55
Expander (Remix) samples small cuts from the bongos (throughout the tracks) of Michael Viner's Incredible Bongo Band - Apache (most notably at 3:12) (album: Bongo Rock, 1973)
The Future Sound of London - Moscow (Remix)