FSOL - From The Archives Vol.1 (06.03.2007)
fsoldigital.com - CD TOT 53
(web version registered on 06.03.2007 / CD version released on 23.07.2007)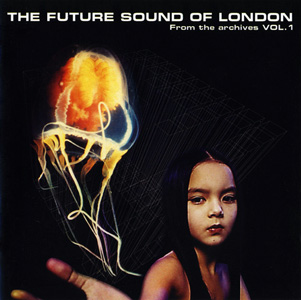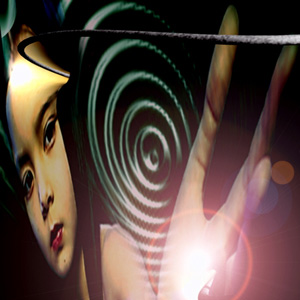 Another one of the initial dozen releases on the opening of FSOLDigital.com was the first volume of 'From The Archives' series. The story goes, this series started when FSOL were prepping their last release for Virgin - Teachings from The Electronic Brain. Digging into their archives to make this compilation, they found the original tapes of hundreds of demo tracks - and the beautiful Archives series was born. (This story is at least partially wrong because the Archives idea was conceived circa 2000 with the initial Fish Smokin' project)
Some of the tracks we've heard before, but only as part of the ISDN mixes, as well as Kiss/Peel/BBC mixes, and the ISDN Show promo CD - but those tracks are renamed in their new Archive incarnations. But what is really fascinating is that most of the tracks (about three quarters) were unheard and unreleased before. This first Archive for example has only 6 (out of 17) tracks that were heard before but never officially released. And while a small number of tracks are obviously leftovers that wouldn't fit an actual album, most of them are priceless gems! They really could've released at least two to three more albums that would match the quality of Lifeforms / ISDN / Dead Cities. But on the other hand, it's understandable they were too busy with dozens of projects and then the silent period (1998-2000) came. And we have no info if the final versions that we are listening on the Archives weren't re-brushed and post-produced before they were released in 2007. My guess would be very little to no re-brushing of the tracks was done.
There was a slight problem with the first three volumes of the Archives - there were no segues. The ones that appeared later (vol.4 and onwards) were segued and had much better flow - somewhere between an ISDN transmission and an actual album. One of the signature moves of FSOL was missing, so after a few years and many complains of the fans, in 2012 the first three volumes were re-released with segues and those versions are definitely more pleasant to listen to. They were only released on Juno and will they ever be released on CDs and/or on FSOLDigital.com still remains to be seen. (With the level of BUSY they're going since 2007, I guess this re-release is very low on their list...)
Another 'problem' was the tracklist, or the track names to be more exact - that bother only the more pedant/OCD fans (including me). The tracklist on the web-version and the CD version vary on almost every track. Singlular/plural various-ness is a common thing and the last track is just killing me... Details about the lengths and names from the different editions are given below:
Tracks: (original length : enhanced edition length : original web name : original CD name : possible recording year)

01. (5:19) (5:25) Lizzard Crawl / Lizzard Crawl (1996)
02. (7:42) (8:43) Hallucination / Hallucinations (1995)
03. (5:20) (5:09) Field Of Flowers / Field Of Flower (1993)
04. (0:17) (0:58) Enviroments - Birds / Enviroment F1 (1993)
05. (5:16) (5:20) Still Flowers / Still Flowers (1993)
06. (0:36) (1:04) Enviroments - Gong / Enviroment G1 (1993)
07. (4:48) (4:45) Woodland / The Woodlands (1994)
08. (0:51) (0:47) UU / UU (1996)
09. (7:23) (7:18) Turn Around / Turn Around (1993)
10. (1:48) (1:28) Is This Real / Is This Real (1996)
11. (2:29) (2:38) Mouth Muse / Mouth Muse (1996)
12. (4:20) (4:27) Hazey Day Girl / Hazey Day Girl (1995)
13. (0:38) (0:31) Wt Pavement / Wet Pavement (1996)
14. (7:04) (7:25) Head Hunter / Head Hunter (1997)
15. (3:04) (3:25) Arrived / Arrived (1996)
16. (4:16) (4:12) Pale Moon / Pale Moons (1994)
17. (5:22) (6:20) Nuru Device Send / Neuro Send Device (1996)

Total play original edition: 1:06:33
Total play enhanced edition: 1:09:54
The artwork also seems to be 'from the archives' but probably re-manipulated into new booklets for the CDs. We have the usual suspects (by Buggy G. Riphead): The witch girl, the electronic brain, Vit and the usual sinister dead-nature photos. A new kind of electronic brain appears on almost every post-2007 release, usually on the sound carrier - it looks like a wireframe of the brain with cut-out tentacles. Also, the background of the front cover (pictured above) has the same cover that appeared in the ISDN Show booklet - hinting that these archived tracks are from their ISDN era (1993-1997).
Alright... everybody online...? looking good...
Lets see what we can... see...
(I'm gonna review the 2012 enhanced editions, and hope that they'll be properly released on FSOLDigital.com)
01 - Lizzard Crawl (5:25)
- Definitely one of my all time FSOL favorites. To ask 'why wasn't this one released on a proper album' on this one, and on every other track on the Archives series would be pointless, so I'm gonna do this just this one time: WHY wasn't this one released on a proper album!?!?!? The simplicity of this track is killing me (in a good way). FSOL don't do minimal electronic beats often - but when they do them they are fucking perfect. The piano parts are a bliss, and the genius funky-funky bass is a different cut taken from We Have Explosive Part 3.
- The first peak of this track was in 2006 on FSOL's MySpace page. For possible recording year I would say 1995 or more possibly 1996, because it's obviously from the Dead Cities sessions, but the bassline from WHE says it could've been 1996 (because the WHE longform single was released in early 1997 and recorded in late 1996).
02 - Hallucination (8:43)
- Another one from the Dead Cities sessions (with much older roots). A very different track compared to the previous one but equally beautiful - Hallucination offers a faster trip in the state of mind called FSOL. It was first heard on the Peel Session (29.09.1995) and I've been wondering since then, were those guitar distortions sampled (and from where) or were they played originally for this track. The long ending sague is simply magnificent.
- The Moroccan flute (played by Yage in 1989) seems to be the only thing that connects this track with the Yage track on Dead Cities, and yet we all consider Hallucination a demo version of Yage. Nevermind, they're both great tracks.
- Another working title of this one was Ayahuasca.
03 - Field Of Flowers (5:09)
- This ambient/breaks confuses me a lot. The way the breaks are cut reminds me of Dead Cities, but everything else sounds older. And the fact that we have bright melodic synths immediately tells me that this one wasn't from the famous trio of Lifeforms/ISDN/Dead Cities. There isn't a single bright moment on those albums (and yet they can induce that mood at times... the wizardry of the 'trademarked' euphoric sadness) - well, actually there are a few pure bright moments on Spineless Jelly but lets not get picky. To summarize, I place this track in 1993, as a leftover of the Ephridina sessions.
04 - Environments - Birds (0:58)
- One of the many short abstract pieces that didn't got released back in 1994 on the imagined Environments album. You can hear this one on dozens of ISDN mixes, but the earliest appearance is on the Kiss 100 FM Transmission 2 (19.05.1993).
05 - Still Flowers (5:20)
- The bass and the background melodies (which sound like Vangelis a bit) are a dead giveaway that this track belongs to the Lifeforms sessions, but the upbeat and the faster mood are probably what made it a leftover. The spoken sample says 'ill flower' but this track has nothing to do with the actual Ill Flower from Lifeforms, except it maybe tells us they are from the same session, and Ill Flower was recorded in late 1993 (premiered on Kiss T6 on 25.11.1993).
- The opening samples a Front 242 track, and there's another possible drum sample from Black Dog Productions as Discordian Popes. (see below in the sample library)
06 - Environments - Gong (1:04)
- Another short Environments leftover that didn't find it's place on the albums. The same clangs could be heard on the AST track Esus Flow (Vast Galaxy Remix) and on dozens of ISDN shows. The earliest appearance is same as the fourth track, the Kiss 100 FM Transmission 2 (19.05.1993).
- A recent sample-spotting by Ross tells us the clangs are sampled from the opening of the second Kaftwerk album.
07 - Woodland (4:45)
- The style of the bass and the fact that we first heard it on the BBC Essential Mix (14.05.1994) has me thinking this was recorded on the earliest ISDN sessions in early 1994. It was also available later (in 2006) on the MySpace page.
08 - UU (0:47)
- Short noisy piece, almost impossible to place the recording year. If I have to take a stab in the dark, I'd say 1996 Dead Cities sessions, the sharpness and the mood sound like some Dead Cities segue leftover.
09 - Turn Around (7:18)
- I'd bet real money this track was on the 1st draft on the early Lifeforms album. (we had confirmation that there was at least two scrapped versions before we got the final one) There are so many sounds that ended up on a few tracks on the final Lifeforms version. The beautiful melodic guitars were probably a mood-breaker for the final version of the album. Definitely recorded in mid 1993.
10 - Is This Real (1:28)
- Environment chunk from the Dead Cities era, we heard it on the ISDN Transmission 11, Berlin (Fritz Radio) (06.12.1996). The howling effect at 0:19 taken from The Awakening, a 1980 movie (at 12:22, the first entering of the tomb scene).
11 - Mouth Muse (2:38)
- The dark IDM says it's definitely from the Dead Cities sessions (1996). And the beat seems to be built around human beatboxing, which is cool and furthermore confirms the year - many big-beat and breaks bands were experimenting with beatboxing in 1996/1997. Mouth Muse was performed on the 2009 live shows.
12 - Hazey Day Girl (4:27)
- Another hard one to place. Bright guitar with glitchy IDM beats and percussion. It's possible the guitar was recorded earlier and the beats were added in 1995 with the initial experiments from the Dead Cities sessions, and later it was dropped because the bright guitar didn't fit. Even though this one didn't find it's place on the albums, it is a very beautiful track.
13 - Wt Pavement (0:31)
- A recording of somebody walking along a rainy pavement, another unused segue. Again, stab in the dark, the mood says early 1996 Dead Cities sessions.
14 - Head Hunter (7:25)
- Well, the drums are almost the same with Sendero Luminoso (aka The Shining Path) which will also be released later on the Archives series. Awesome funky bass and wah-wah guitars, and drums and effects that sound recycled from Papua New Guinea, this dark head hunter was recoded in 1997 at the very first Isness sessions. I still wonder how would Isness sound like if it appeared in 1998...
15 - Arrived (3:25)
- Slow moody piece with some LFO experiments from the Dead Cities era. We heard it first on ISDN Transmission 16, France (Fun Radio) (27.02.1997) but it was probably recorded in 1996. On the ISDN Show Promo CD this same track was named Sitting Around - a more appropriate name maybe...
16 - Pale Moon (4:12)
- One of my favorites, trip-hop with a very dark mood and muted trumpet (Miles, is that you?). This one was probably recorded in the late 1994 ISDN sessions, and for some reason didn't end up on the ISDN album.
17 - Nuru Device Send (6:20)
- The glitchy darkness says 1996 Dead Cities sessions. In spite it's 6+ minute running this track sounds unfinished, and that's the probable reason why it was unreleased for a decade.
And now... to the sample library!
Hallucination samples (at 0:00) Deuter - Cicada (album: Cicada, 1982), birds chirping (or maybe they're synths... because... Germans...) most clearly heard after the 2 minute mark (and the next 20 seconds). Same sample used earlier in Lifeforms Path 4, and other chirps landed on FSOL Deseo Reconstruction.
The opening of Still Flowers samples the opening of Front 242 - Rhythm of Time (from Tyranny for You, 1990)
The drum patterns (at 0:40) on Still Flowers are very similar with Black Dog Productions aka Discordian Popes - Fight The Hits (from Bytes, 1993) - at 4:40
Environments - Gong samples Vangelis - Tales of The Future (from Blade Runner, 1982)
Environments - Gong also samples the opening of Kraftwerk - KlingKlang (from Kraftwerk 2, 1972)
Woodland (at 0:21) samples guitar-scapes from Robert Fripp - 1985 (at 3:40) (from Let The Power Fall, 1981)
[more samples from the same album at 1:11 and so on...]
Pale Moon (at 0:56) samples the drums of Intimate Strangers - Love Sounds (from Love Sounds 7" single, 1975)
[the sample is slowed down and sounds like a low sample rate, so possibly played from an S950 or similar.]
Nuru Device Send samples a heavily meshed and pitched down drum break from The Winstons - Amen, Brother (from Color Him Father / Amen, Brother 7" single, 1969) -- every electronic act that was doing breakbeat music in the 90s has sampled this drum-break at least once!
Want to read about the other Archives series? Click away:
From The Archives Vol.1 (06.03.2007) --> It's this post.
From The Archives Vol.2 (06.03.2007)
From The Archives Vol.3 (06.03.2007)
From The Archives Vol.4 (17.10.2007)
From The Archives Vol.5 (29.08.2008)
From The Archives Vol.6 (02.09.2010)
From The Archives Vol.7 (19.11.2012)
From The Archives Vol.8 (11.09.2015)