Mon Nov 25, 2013 5:05 pm
THE FUTURE SOUND OF LONDON - TEACHINGS FROM THE ELECTRONIC BRAIN: THE BEST OF FSOL (2006)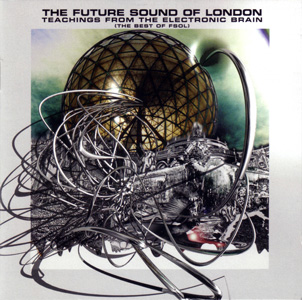 CD (094637052228) 4th September 2006
01. Papua New Guinea (12" Verison)
02. Max
03. Everyone In The World Is Doing Something Without Me
04. My Kingdom
05. Smokin' Japanese Babe
06. Antique Toy
07. Lifeforms (Radio Edit)
08. Yage
09. Expander (12" Version)
10. Glass
11. The Far-Out Son Of Lung And The Ramblings Of A Madman
12. The Lovers
13. Mountain Goat
14. Cascade (Shortform)
15. We Have Explosive (7" Edit)
THE FUTURE SOUND OF LONDON - TEACHINGS FROM THE ELECTRONIC BRAIN: RARE TRACKS EDITION (2006)
MP3 4th September 2006
01. Herd Killing
02. Live in New York
03. Hot Knives
04. An End of Sorts
Notes:
The first official compilation release from FSOL, the long-rumoured best of perhaps inevitably took the name Teachings From The Electronic Brain, and was released in 2006. The tracklist is surprising; whilst it covers all 'FSOL' singles (including an appearance from Translations in "The Lovers"), there is technically no material from the band's most acclaimed and best-selling album, Lifeforms (both single versions of "Cascade" and "Lifeforms" differ drastically from their LP counterparts), "Mountain Goat" makes an appearance from the Amorphous record Tales Of Ephidrina, and there are several additional tracks from Dead Cities, an album the band have all but disowned. The album features no new material, unfortunately, so the release looks set to be for die hard collectors and newer fans looking for an introduction to the band.
A download-only EP, with tracklist voted for by the fans, was available alongside the release, containing four 'rare tracks' from the ISDN sessions, sourced from Promo 500 and ISDN Black.
Press release:
The Future Sound of London were formed by Brian Dougans and Gary Cobain in the early 90's and are seen to be one of the most respected and influential electronic acts of the past 15 years. Their work enabling them to incorporate elements of classical, hip hop, electronica, industrial, punk and dub to create expansive tracks laden with samples exquisitely produced and pretty unique.
They met in Manchester in the mid 80's where they started looking into electronic music, working in clubs and alongside many well known and respected artists and DJ's from that time. Brian's work incorporated a project for the Stakker Graphics company where he created the top 20 hit "Stakker Humanoid", accompanied by a pretty visually stimulating video, while Gary latterly became involved with the accompanying video. Over the next 3 years their partnership grew and they released a number of early techno and dance records under a variety of aliases.
It wasn't until 1992 when "Papua New Guinea" was released (through Jumpin' and Pumpin'), peaking at number 22 in the UK chart, that the first release from The Future Sound of London was available. It was the ambient dub of "Papua New Guinea" that caught the ears of Virgin Records who snapped them up hoping for more of the same (or similar). First they had to complete an album for Jumpin' & Pumpin', so Accelerator was finished and included "Papua New Guinea" alongside "Expander", both of which are included here. They began their deal with Virgin with the experimental Tales Of Ephidrina, released under their Amorphous Androgynous moniker in 1993, from which we have included the sublime "Mountain Goat". It was around this time that ISDN broadcast began to take off as a medium and they keenly took it up, broadcasting to Kiss Fm listeners on an almost regular basis with their mix of ambient and techno.
"Cascade" was released in 1993, showcasing where Tales of Ephidrina had taken them. It peaked at 27 in the UK singles chart in November that year. The double disc Lifeforms followed in 1994 and was hailed as one of the greatest ambient/electronica albums of the 90's by the media (and public), whose positive coverage helped propel the album to number 6 in the UK charts, where it remained for a further 17 weeks. Songs such as "Lifeforms", (which reached 14 in the UK singles chart), featuring Liz Fraser (of Dead Can Dance / Cocteau Twins) on haunting vocal duty, create vast sonic soundscapes of real and unreal sounds laid under or over a played-down beat.
By 1995, the duo had undertaken numerous ISDN broadcasts including a world tour and a headline slot at the Brighton Festival - all from the comfort of their own studio! Each broadcast would include more new material and in 1995, Virgin released a limited edition black album of these recordings entitled ISDN. This was soon followed by the full length LP under the same name, but in white packaging. Remaining defiantly original but moving away from the completely ambient landscapes that filled Lifeforms, to a more industrial sound, fusing hip hop beats with jazz funk, such as "Far-Out Son of Lung and the Ramblings of a Madman", as well as organic beats.
Dead Cities saw FSOL embark on a darker journey through electronica with songs such as "Everyone In The World Is Doing Something Without Me" offering a creepy, yet sleepy, urban landscape of vocal samples which almost serves as an introduction to the darkness of "My Kingdom" (# 13 UK chart) with its dark, trippy beats and haunting flute. "We Have Explosive" with it's explosion of drums and guitars aggressively stabbing over electronic bleeps and robotic voices gave FSOL their biggest single, peaking at 12 in the UK chart. Further tracks included here, from Dead Cities, include the electro beats of "Antique Toy", and the piano of "Max" – a dedication to long time contributor Max Richter.
FSOL are an important part of the journey from post rave electronica, with music that has successfully experimented and crossed the boundaries of trip hop, ambient, hip hop, jungle and even punk, or certainly a punk-rock attitude.