THE FUTURE SOUND OF LONDON - WE HAVE EXPLOSIVE (1997)
CD (VSCDT 1616) March 31st 1997
01. We Have Explosive (7" Edit)
02. We Have Explosive (Oil Funk Remix)
03. We Have Explosive (Mantronik Plastic Formula #1)
04. We Have Explosive (Oil Dub)
CD (VSCDX 1616) March 31st 1997
01. We Have Explosive (Part 1)
02. We Have Explosive (Part 2)
03. We Have Explosive (Part 3)
04. We Have Explosive (Part 4)
05. We Have Explosive (Part 5)
CD (ASW 6196)
01. We Have Explosive (Part 1)
02. We Have Explosive (Part 2)
03. We Have Explosive (Part 3)
04. We Have Explosive (Part 4)
05. We Have Explosive (Part 5)
06. We Have Explosive (Oil Funk Remix)
07. We Have Explosive (Mantronik Plastic Formula #1)
08. We Have Explosive (Oil Dub)
09. We Have Explosive (Radio Edit)
12" (VST1616) March 31st 1997
01. We Have Explosive (Original Version)
02. We Have Explosive (Leon Mar Mix)
03. We Have Explosive (Oil Funk Remix)
04. We Have Explosive (Mantronik Plastic Formula #1)
05. We Have Explosive (Part 5)
CD Promo (VSCDJ 1616)
01. We Have Explosive (7" Edit)
02. We Have Explosive (Mantronik Formula #1 Edit)
12" Promo (VSTDJ 1616)
01. We Have Explosive (Mantronik Plastic Formula #1)
02. We Have Explosive (Mantronik Plastic Formula #2)
12" Promo (VSTXDJ 1616)
01. We Have Explosive (Original Version)
02. We Have Explosive (Leon Mar Mix)
03. We Have Explosive (Oil Funk Remix)
04. We Have Explosive (Part 4)
05. We Have Explosive (Part 5)
CD Promo (CAR CD-PRO 9704)
01. We Have Explosive (Radio Edit)
02. We Have Explosive (Mantronik Formula Edit)
03. We Have Explosive (Album Version)
THE FUTURE SOUND OF LONDON - WE HAVE EXPLOSIVE/LIFEFORMS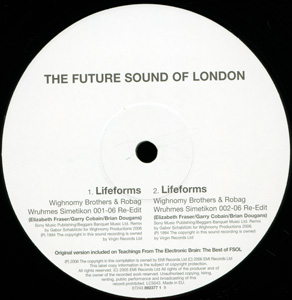 12" promo (8923771) 25th September 2006
01. We Have Explosive (Remixed by King Roc)
02. Lifeforms (Wighnomy Brothers & Robag Wruhmes Simetikon 001-06 Re-edit)
03. Lifeforms (Wighnomy Brothers & Robag Wruhmes Simetikon 002-06 Re-edit)
Notes: "We Have Explosive (Part 2)" is remixed by Leon Mar and the same as "We Have Explosive (Leon Mar Mix)". "We Have Explosive (Original Version)" the same as "We Have Explosive (Part 1)".
Artwork by Run Wrake, Ian Kay, FSOL and Buggy G. Riphead.
The Semtex version was a white label promo only release with no tracklist given on the sleeve. The third version is exclusive to this release only.
The 2006 12" was released to promote the Teachings From The Electronic Brain compilation.
"We Have Explosive" appears on Dead Cities and Teachings from the Electronic Brain: The Best of FSOL.
The last ever FSOL 'single', and the second single from Dead Cities. The various parts on the longform version feature funk influences that would direct the band in their future Amorphous Androgynous works ("Part 3"), before steering towards ambience ("Part 4") and into an unrecognisibly slow, sinister ambient section ("Part 5"). Oil and Mantronix give the piece several different workovers. The band's highest charting single.
Chart:
UK singles chart: number 12.